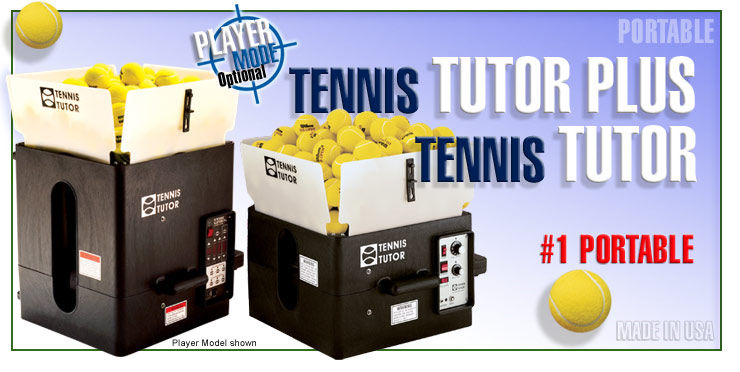 Tennis Tutor PLUS Tennis Tutor
NO COMPROMISES
Tennis Tutor® is portable enough to take anywhere, yet powerful enough to challenge even top-level players. In fact, Tennis Tutor is used by tennis pros at the Association of Tennis Professionals (ATP) Training Center in Ponte Vedra Beach, Florida.
---
PATENTED TECHNOLOGY, PROVEN PERFORMANCE


Tennis Tutor's patented technology, combined with over 20 years of experience and refinement, have made Tennis Tutor the #1 portable ball machine worldwide.

Tennis Tutor features an electronic control panel which gives you fingertip control of ball speed, trajectory, and ball feed rate (the time interval between ball throws). Ball speed ranges from a gentle toss for children to world-class speed. Ball trajectory can be set anywhere between ground stroke and lob, while ball feed rate adjusts anywhere from 1-1/2 to 10 seconds.

You can set Tennis Tutor to repeat shots you need to practice, or to oscillate and direct shots randomly across the court. Tennis Tutor also features an exclusive anti-jam ball feeding mechanism, and a 10-second start-up time delay to give you time to get to the other side of the net.



TRUE PORTABILITY... AND MORE


Tennis Tutor is truly portable, measuring only 30cm tall when the ball hopper is folded down for transport. And with the towing handle extended, it tows just like luggage. 

When you get to the court, the ball hopper opens in seconds to hold 150 balls, which is more than two standard pick-up baskets full of balls.

Tennis Tutor comes standard with a built-in heavy duty rechargeable battery that can deliver up to six hours of playing time, so there's  no need for extra batteries.

 

Tennis Tutor has a built-in battery charge indicator, and it even politely beeps when there is only one-half hour of battery charge left. And of course, Tennis Tutor comes complete with a Smart Battery Charger that fully charges the battery overnight.

TENNIS TUTOR PLUS

 

Tennis Tutor Plus includes all the features of the standard TennisTutor, plus adds topspin and under spin capability. A simple dial controls the amount of topspin or under spin you desire. The Tennis Tutor Plus measures eight inches taller than the standard Tennis Tutor.

Tennis Tutor Plus is the only portable ball machine that displays the Elevation setting right on the control panel. A simple 10-segmentdisplay shows the elevation setting so you can set it to your favoritespot before firing any balls.

POPULAR OPTIONS




Tennis Tutor and Tennis Tutor Plus are both available with a two-button wireless remote control. The hand-held remote lets you start and stop ball delivery, and control the side-to-side position of the ball throws. Both are also available with a 2-line function that automatically shoots to two preset court positions. This feature allows you to practice alternating forehand and backhand shots, or allows an instructor to automatically shoot to two lines of students. There are  two 2-line settings, narrow and wide, for added versatility. Additionally, Tennis Tutor Plus is available with Player Mode?. PlayerMode simulates the shot patterns of real players, and is described below.

AC POWER




All Tennis Tutor models (excluding Tennis Cube model) can be ordered with AC power instead of battery power for a nominal additional charge.

WARRANTY




Tennis Tutor is backed by a one year warranty covering both parts and labour.
DEMONSTRATION FOR ALL MODELS AVAILABLE IN SYDNEY, PLEASE CONTACT US TO BOOK AN APPOINTMENT. WE OCCASIONALLY HAVE AVAILABLE, EX-DEMO MODELS & FLOOR STOCK AT LOWER PRICES. PLEASE GIVE US A CALL TO DISCUSS.
BEWARE OF COUNTERFEIT TENNIS TUTOR BALL MACHINES BEING SOLD ON EBAY AT VERY CHEAP PRICES. THESE COUNTERFEIT MACHINES ARE NOT PRODUCED OR ENGINEERED TO THE SAME QUALITY OR SPECIFICAITIONS AS THE GENUINE PRODUCT AND ARE NOT COVERED BY THE TENNIS TUTOR WARRANTY.
---
| | | | | |
| --- | --- | --- | --- | --- |
| SPECIFICATIONS |   |   | MODELS AND PRICES  |   |
| Ball capacity | 150 Balls |   | Tennis Tutor - Battery powered | P.O.A |
| Trajectories | Groundstroke to Lob |   | Tennis Tutor - AC powered | |
| Ball ejection speed | 16 - 140 km/h  |   | Tennis Tutor Plus - Battery | P.O.A |
| Ball feed rate | 1 1/2 to 12 seconds |   | Tennis Tutor Plus - AC | P.O.A |
| Oscillator | Random  |   |   |   |
| Battery Type | Lead-acid, solid, sealed |   |   |   |
| Playing Time w/heavy duty battery | 4 to 6 hours typical |   |   |   |
| Recharge Time | 12 hours, typical |   |   |   |
| Dimensions (hopper closed) |   |   |   |   |
| Tennis Tutor | 30cm(H) x 50cm(L) x 51cm(W) |   |   |   |
| Tennis Tutor Plus | 51cm(H) x 50cm(L) x 51cm(W) |   |   |   |
| Weight (includes 5kg Heavy Duty battery) |   |   |   |   |
| Tennis Tutor | 19kg  |   |   |   |
| Tennis Tutor Plus | 21kg |   |   |   |