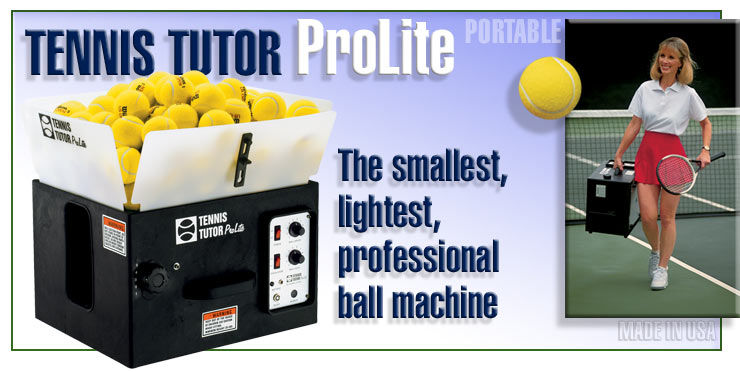 Tennis Tutor ProLite
The Tennis Tutor ProLite? is a full-featured professional ball machine, yet it stands only 30cm tall and weighs less than 13kg. Patented technology borrowed from the world's #1 portable ball machine, the Tennis Tutor, makes it possible.
---
FEATURES
Five-second Set-up
The ball hopper opens in seconds to hold 125 tennis balls. Just load the balls and you're ready for action.
Versatile Speed
Ball speed is variable from a gentle toss that's ideal for kids just beginning tennis, to hard-hitting ground strokes that will challenge even top amateur players.
Variable Ball Feed
Ball feed rate is adjustable from one ball every 1-1/2 seconds (for quick-reaction volleys), to one ball every 10 seconds, or anywhere in between so you can practice at your own pace.
Start-up Time Delay
A start-up time delay allows the player time to get to the other side of the net before balls begin shooting.
Full Range of Trajectories
Ball trajectory is manually adjustable from ground stroke to lob.
Full-Court Oscillator
When you're ready to hit on the run, just flip the oscillator switch and Tennis Tutor ProLite will deliver shots randomly across the court.
Battery-powered models
The built-in rechargeable battery typically delivers two to three hours of playing time. And it can be recharged between 500 and 1,000 times before replacement. The Battery models come complete with a Smart Battery Charger that fully charges the battery overnight. And it even has a built-in battery charge indicator.
WARRANTY
Tennis Tutor ProLite is backed by a one year warranty covering both parts and labor.
DEMONSTRATION FOR ALL MODELS AVAILABLE IN SYDNEY, PLEASE CONTACT US TO BOOK AN APPOINTMENT. WE OCCASIONALLY HAVE AVAILABLE, EX-DEMO MODELS & FLOOR STOCK AT LOWER PRICES. PLEASE GIVE US A CALL TO DISCUSS.
BEWARE OF COUNTERFEIT TENNIS TUTOR BALL MACHINES BEING SOLD ON EBAY AT VERY CHEAP PRICES. THESE COUNTERFEIT MACHINES ARE NOT PRODUCED OR ENGINEERED TO THE SAME QUALITY OR SPECIFICAITIONS AS THE GENUINE PRODUCT AND ARE NOT COVERED BY THE TENNIS TUTOR WARRANTY.
---
| | | | | |
| --- | --- | --- | --- | --- |
| |   |   | MODELS AND PRICES  |   |
| Ball capacity | 125 Balls |   | Tennis Tutor ProLite - Battery | P.O.A. |
| Trajectories | Groundstroke to Lob |   | Tennis Tutor ProLite - AC | P.O.A. |
| Ball ejection speed | 16 - 100 km / h  |   |   |   |
| Ball feed rate | 1.5 to 10 seconds |   |   |   |
| Oscillator | Random  |   |   |   |
| Playing time (Battery Model) | 2 to 3 hours, typical |   |   |   |
| Dimensions (closed) | 30cm(H) x 50cm(L) x 46cm(W) |   |   |   |
| Weight (w/ Battery) | 13 kg  |   |   |   |
| Weight (AC Model) | 10 kg |   |   |   |